Sway Bar (stabiliser bar) Bushing & End Links
Performance polyurethane Sway Bar & End Link sets make your vehicle's swaybar system much more effective. In effect, it's almost like buying an upscale/higher performance anti-swaybar! Your swaybar system never had it so good! Replaces the original, short lived, and "too soft" rubber. Dollar - for - dollar they offer the greatest improvement in performance handling. Greasable fittings feature zerk type fittings, allowing for periodic greasing. Channels allow for the lube to migrate to where it is needed.
Available in

Red

or Black
---
Control Arm Bushings
Maintain better alignment while cornering, stopping and hard launching that soft O.E.M. rubber. A must for both lowered or raised vehicles where weight transfer causes distortion. All control arm bushes are full flating and non-binding, especially important when ride height is altered or greater suspension load is required. Better castor and camber is maintained during hard driving resulting from the correct durometer firmness. The rear control arm bushes are a must for controlling wheel hop and increasing cornering control. Many sets come complete with plated outter metal shells.
Available in

Red

or Black
---
Leaf Spring Bushings
Be in control when maneuvering through turns, during standing start accelerations, braking and over bumps and berms. Allow the leaf spring to function more efficiently. For high-performance applications, the combination of heavy duty/performance leaf springs and ENERGYS's polyurethane spring bushings deliver maximum benefit. These bushings also improve lighter-duty leaf spring systems, adding a higher degree of performance and durability. In either situation you'll feel the difference in positive handling and control.
Available in

Red

or Black
---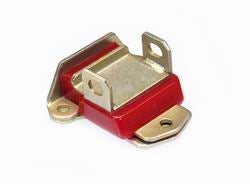 Motor Mounts
Quickly becoming on of the most popular componnts ENERGY offers, performance polyurethane motor mounts are the best of both worlds: smooth running for the street, strong for the track. Torque resistant yet comparable in strength to too-hard running metal mounts. Early Chevy styles have a patented "safety interlock", while the Clam Shell versions are re-engineered to deliver better performance, under all conditions.
Available in

Red

or Black
---
Motor Mount Inserts
For front wheel drive vehicles. These polyurethane inserts are thoroughly tested to add support and stability to the existing O.E.M. motor mount system. They both restor worn mounts and reduce unwanted movements. Under high performance conditions, they reduce wheel hop and torque movement that can damage components.
Available in

Red

or Black
---
Transmission Mounts
Definately one of the most popular ENERGY components for years, these re-engineered mounts have lead the industry and are in demand, both ofr the track and the street. Several applications utilise ENERGY's patented safety interlock. Impervious to undercar fluids.
Available in

Red

or Black
---
Body & Cab Mounts
Replace to restore ride height as well as gain durability! Stronger than the original rubber moutns that are so soft they crack, distort, and crush so badly they often fall off. Aluminum mounts are too harsh, causing other componets to break! ENERGY's specially formulateed polyurethane body and cab mounts are soft enough for a smooth ride, yet rugged enough for the most demanding road or track. Most have a steel ring moulded into the end for added durability, no matter how demanding the driving.
Available in

Red

or Black
---
Bump Stops & Strut Stops
For control arms, traction bars, axles and leaf springs. Guaranteed to last longer and operate more efficiently than O.E.M. rubber stops. Cushions a collpasing suspension, preventing expensive damage. New style for O.E.M. replacement apllications. The smaller, general purpose bullet-shaped snubber is ideal for control arms. The large competiton race styles have a reinforced metal plate welded to the mounting plate and moulded in. Provemn on the race track and off road
Available in

Red

or Black
.
---
Strut Rod Bushings
Using performance tyres with soft O.E.M. rubber strut bushings causes the steering axis slant (caster) to change, which causes premature failure of the lower control arm bushings. ENERGY's polyurethane bushings help reduce common wheel "roll-under" while braking and loss of steering control. While braking, they keep the front wheels and lower control arm assembly from literally rolling under the car! A must to use with large/performance tyres. In addition these bushings diminish wheel hop on FWD vehicles -
Available in

Red

or Black
.
---
Shock Boots
38130
Designed to protect the shock absorber shafts from rocks, mud, dust and other damaging elements. Extend the life plus colour coordinate your expensive shocks and stabilisers -
Available in

Red

or Black
.
---
Tie Rod & Ball Joint Boots
913101
Replacements for when disassembly ruins existing rubber boots. Lasts longer, seals longer, looks better. In the past you had to buy an enitre tie rod assembly when only the boot needed replacing! They seal out contaminants and prevent loss of lubricants.
Complete Master Sets
Get the combined performance of all component sets. Including all that you'll need, including heavy duty hardware. MAX PERFORMANCE!
Available in

Red

or Black